Reserve online
Zanhotel & Meeting Centergross, Bentivoglio
and save with our discounted rates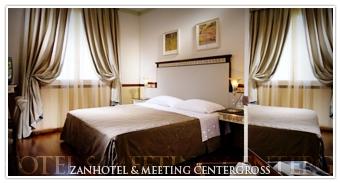 Our last creation at your disposal is Zanhotel & Meeting Centergross, specially created, in order to welcome every kind of clientele in the heart of Bologna and offer a unforgettable and unique stay, not comparable to the other structures of the city.

The 3 main points of our structure are: an incredible congress centre, where the dimensions are stunning; 2500 square metres, 12 rooms that can be modulated according to your needs and very modern technology. You can realize here successful events, because every your need can be easily satisfy. But it is not all.


The hotel has at its disposal a splendid restaurant – Rossi Sapori, which will give you great pleasure with delicious dishes of the regional and typical Italian cuisine like Pasta (with a big choice of tortellini, lasagne and tagliolini). The ingredients are accurately chosen and all is home made.

Finally, for your relaxing moments, after a day of work or in order to round off the day, there is our wellness centre Skiuma, equipped with fitness club, beauty treatments and swimming pool.

The exit of the motorway, city centre and fair district are all close to the hotel and make it the ideal destination for business or pleasure trips in Bologna.

NOTE: The breakfast EXTRA cost is € 9.00, to be paid in the hotel directly.
Give us your Feedback
Zanhotel & Meeting Centergross, Via Saliceto, 8 - Bentivoglio - Bologna
HotelsBologna.it
Copyright © 2005 - 2022 | P.IVA# 03458490277